Samburu National Reserve is located in Northern Kenya situated at the banks of Ewaso Ng'iro river which separates it from Buffalo springs National Reserve. The wilderness measures about 165km in area. The Samburu national reserve is famous for unique wildlife such as Somali Ostrich , Grevy Zebra ,Somali ostrich ,Reticulated giraffe ,Gerenuk among others. Samburu national reserve is considered the best reserve no only in Kenya but in Africa at large.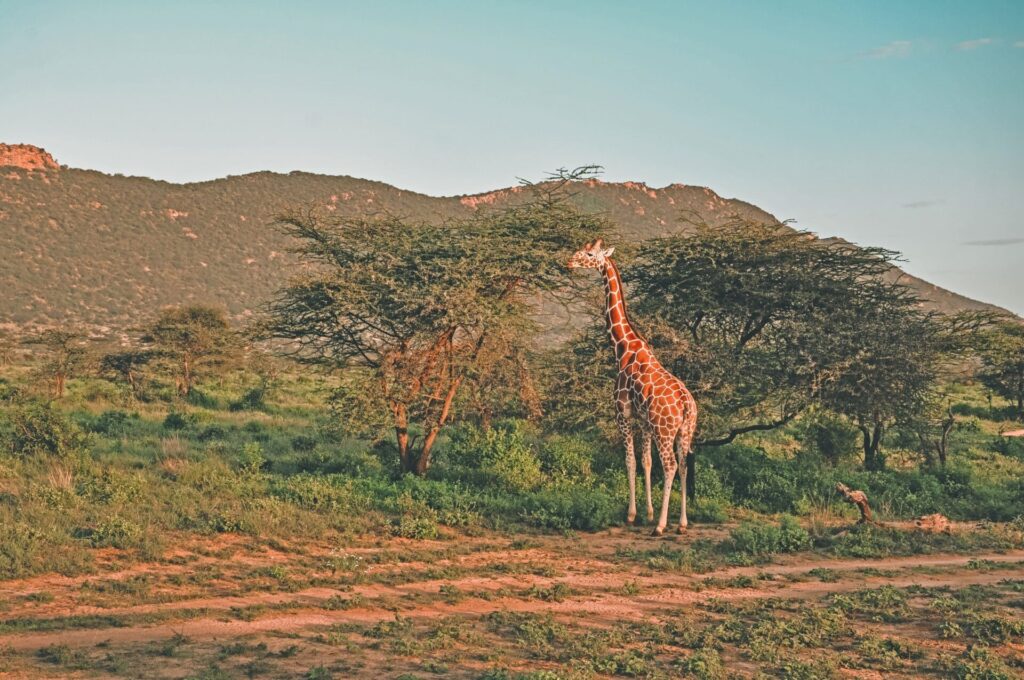 Photo by Samburu National Park.
Fun Things To Do in Samburu
Popular activities to enjoy in Samburu national park.
There are a lot of exiting activities to take part in Samburu .  Safari game viewing and bird watching has been rated as the most thrilling activities this is due to the geography and conducive climate that allows quality game viewing. Indulging in Samburu cultural tour is also an existing activities as tourists get to learn the ways of the local Samburu people. Other activities include trekking safaris, Bush meals and enjoying sundowners
Animals In Samburu
The special five animals found in Samburu National Reserve.
Samburu National Reserve has a rich and diverse collection of wildlife with a collection of samburu "special five "animals. The animals include Gravy's Zebra, Somali Ostrich, Reticulated giraffe, Gerenuk and Beisa orynx, these are animals commonly spotted in Samburu National park. The most common mammals easily spotted in the reserve include elephants. Other animals to spot in the reserve include Olive baboons, warthogs, Lions, leopards, cheetahs and packs of wild dogs. Birdlife is also abundant with over 450 species of birds recorded.
Samburu National Reserve Accommodation
Accommodation options at Samburu National Reserve
The decision on where to stay during your trip to Samburu National Reserve should reflect not just your budget but your personal taste and travel style. Choosing an accommodation afar from the park can be a challenge so it's advisable that tourists should choose accommodation within the national park and in towns surrounding the park such as Meru, Isiolo and Nanyuki .There are varieties of accommodation options to choose from depending on tastes and preferences
The Best Time To Visit Samburu National Reserve
The best time to visit Samburu National Reserve is the months of December , march and July through October. This is because the months are dry thus making wildlife viewing more enjoyable.
Conclusion
Samburu National Reserve is a destination worth visiting as it is one of the most amazing game reserve not only in Kenya but in East Africa. Tourist can indulge in activities such as bird watching, sundowner, game viewing, camping which are experiences to live for. Samburu National Reserve also offers amazing accommodation options for tourists to choose from. Tourist can also visit the local villages to explore and discover more about the Samburu people culture.
To book a room at The Hotel Ezri Meru click here